Future Generations Taken into Account
Create an economy where everyone takes part
The mathematical formula behind the Ğ1 currency's equal co-creation, results in
natural
,
gradual
,
wealth convergence
between members after 40 years (½ the average human lifespan). This solves many of the limitations that we may encounter in other currencies:
Each generation creates the money it uses without impacting future generations
The young are no longer disadvantaged in wealth creation
Currency circulation is encouraged (you can save your Ğ1s but there's no incentive to hoard wealth)
La monnaie libre est créée uniquement dans le portefeuille des êtres humains vivants.
La création de monnaie libre est répartie équitablement entre tous les membres de la communauté, dans l'espace et dans le temps.
C'est-à-dire que quel que soit le lieu mais aussi quelle que soit l'époque, chaque membre crée la même portion de monnaie, durant toute sa vie.
La même portion ne veux pas dire même quantité : quand la quantité de monnaie en circulation augmente, la portion créée par chacun augmente aussi.
Une monnaie relative
Il faut rester conscient que ce n'est pas la quantité de monnaie que l'on possède qui compte, mais la part relative de monnaie par rapport à la masse monétaire globale.
En monnaie libre, on ne compte plus en quantitatif mais en relatif. On utilise une unité relative de monnaie : le DU
quotidien.
---
Learn more in these FAQs
Does the Ğ1 monetary creation produce inflation?
Does the Ğ1 monetary creation produce inflation?
Category
Understanding the basics
Does monetary creation lessen my purchasing power?
Most people think that money creation = printing money = inflation.
The word 'inflation' refers to a general increase of the level of prices.

In the most widespread monetary systems (debt money), this general increase of the level of the prices is generally attributed to the increase of the money supply.
In the libre currency system, the money supply increases at a predictable rate of around 10% per year.
Does that mean that the price of all goods and services increases by 10% per year? Yes… and no.
To make this understandable, let us consider a system we already know: the Euro system, and imagine a pizza situation.
We're in 2022, and let's say you could create €150 per month, which is more or less €5 per day. And lets call these €5 per day a Universal Dividend (UD).
Every Thursday evening, you go out with your friends to have one pizza each, costing €10.
In relation to the money that you create each day, the pizza represents 10/5 = 2 UD
What will happen in 2023?
The money supply will increase by 10%. Your favourite pizzeria will maybe increase their prices, and if they do, you'll pay €11 for your pizza instead of €10.

But! As you're directly accountable for this increase of the money supply (as the money supply increases in correspondence with the total number of active Ğ1 co-creators), you'll now create €5.50 per day instead of €5.
In relation to the money that you create each day, the pizza will still represent 11/5.5 = 2 UD.
Will you have lost some purchasing power?
The easiest way to make the prices stay stable is to display the prices in UD. Then there will be no inflation of any sort. The prices in UD will stay the same, whatever the money supply.
Will the monetary creation lower the value of my savings?
This could be correct in some cases.
For one whose balance is above the average balance per member, if the prices don't lower in UD, the more Ğ1 there are in one UD, the less UD they'll have.
For someone whose balance is below the average Ğ1 co-creator balance, receiving their daily UD will increase the total Ğ1 they have.

With time, all the personal balances converge towards the average balance.
This is one of the important features of the Ğ1 currency: two people whose personal balances that are higher and lower than the average balance, will have their personal balances converge if they have no economical activity for 40 years.
There's something important to keep in mind though: the economic values change with time:
In general, the value of products increases with time.
But a laptop made in 2022 is far more efficient than a desktop computer from 2009, while also being far cheaper, even if we count in absolutes (Euros), and even when the Euro money supply has increased significantly in these same 10 years.
What happens when a G1 currency co-creator passes away?
What happens when a G1 currency co-creator passes away?
Category
Understanding the basics
If the person who passed away didn't leave its account identifiers and password to his or her heir, the money will stay on the account.
Memberships must be renewed every year by G1 currency co-creators (by clicking on a button in their account in the app they utilise), so their account keeps creating money. When a person passes away, his or her account will automatically stop creating money once the annual membership renewal date is passed (in less than a year after this person has passed away), as that person won't be able to renew their membership.
If his or her heir has access to the account, they can transfer the money remaining in the account to their own account and then revoke the deceased person's account, in keeping with the G1 license agreement.
Thanks to the Universal Dividend, from a quantitative perspective, the quantity of money keeps growing exponentially in the system.
The money created by dead people's accounts keeps becoming a smaller share of the existing money mass, until it becomes an insignificant share in about 40 years after their death (in a situation of full currency).
This graph shows the money creation share evolution of a co-creator who dies at the age of 80 years old in comparison with his money mass.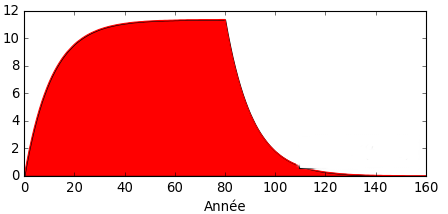 Browse all FAQ
---